Sprint to be Exclusive Carrier for iPhone 5
By Gilbert Falso :: 12:18 AM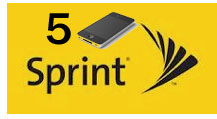 Recent reports circulating on the eve of Apple's iPhone 5 launch are coming in fast and furious – but here's one we didn't see coming. The new iPhone 5, expected out on October 4th, may only be available from wireless carrier Sprint.
The blog BoyGeniusReport claims that a source (unnamed, of course) has told them the iPhone 5 will be a Sprint exclusive when it launches, and that it will run on their 4G WiMax network. The other two iPhone carriers, Verizon and AT&T, will have to wait until next year before they can offer the new hardware. They would be left holding only a new iPhone 4S (the current iPhone offering with new internal technology) on launch day.
There may be some truth to these wild rumors. One need only look at the Wall Street Journal from earlier today to see their article reporting that Sprint agreed to pay $20 billion to buy just over 30 million iPhones from Apple in a contract that spans the next four years. If those terms are correct, the Journal estimates that Sprint would not be able to turn a profit with the iPhone until at least 2014. No wonder they may get a couple months of a head-start over AT&T and Verizon.