By Gilbert Falso :: 11:02 AM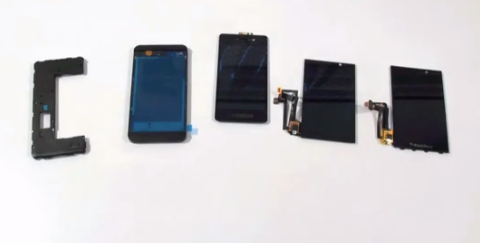 Pictures for components for an upcoming BlackBerry 10 device may have leaked onto the Internet recently, and have helped to confirm many industry rumors about what the new smartphones
will look like.
The parts are an LCD screen, components for a touchscreen digitizer, and front and back housing assemblies for the BlackBerry Z10 model.
The new LCD screen appears to be a 4.3-inch display. The two housing components seen online have different sensor and camera location placements.
The front of the casing for the purported Z10 model has slots for an HDMI port, as well as a micro USB port and shows clues  suggesting it will have a SIM card under the battery. The rear housing has signs for an SD card slot and covers the majority of the Z10's rear, with a gap for the battery and battery cover.
The entire size of the casing is 5.2-inches tall by 2.9-inches wide.
BlackBerry's Z10 models will be touchscreen versions of RIM's new handset lineup that should launch alongside the standard keyboard-equipped Blackberry 10 N-Series.