By Cynthia Herbert :: 1:41 PM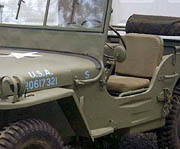 Just like yesterday's hack on Burger King's Twitter account, it looks like Jeep is today's victim.
The account appears to have been breached, and the Jeep logo replaced by that of Cadillac's. The account's bio reads very similar to the hacked Burger King one from yesterday: "The official Twitter handle for the Jeep® — Just Empty Every Pocket, Sold To Cadillac =[ #OpMadCow #OpWhopper," and claims the company has been sold to Cadillac – just as Burger King's had claimed the chain was sold to rival McDonald's.
At this time, neither Jeep nor Twitter have responded. It took nearly an hour for Twitter to rein in the rogue Burger King account yesterday.
Update:Â As of 1:55 PM, it appears that the Jeep account has been brought under control. The background image that the hackers added has been removed, and no Tweets have been sent in the past 15 minutes.
Image below: Profile info on Jeep Twitter account while under hacker control.