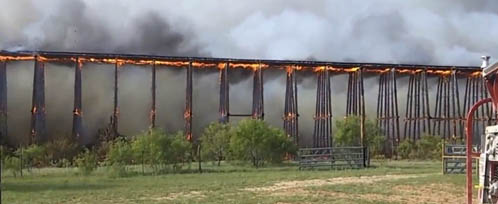 By Paul Thomson :: 1:08 PM
When fire broke out on Sunday afternoon on a railroad bridge that spanned the Lower Colorado River between San Saba and Lometa, Texas, local officials had no choice but to let the structure burn to the ground.
The intense heat of the creosote-soaked structure kept volunteer firefighters a good distance away. The fire started about 4:00 PM, and the entire trestle was engulfed within 20 minutes.
Video below, taken by one of the first responders, shows the domino-like collapse of the bridge.
"Within 25 seconds, it was just gone," said Jack Blossman, captain of the volunteer fire company that was at the scene. "And then it just turned into a giant fireball, because of all of the creosote in the cross-ties."
Early estimates show that the total losses from the destruction could be as high as $10 million. It is unknown what caused the fire to start, although there was some construction taking place at one of the ends of the bridge.