Twitter Acquires AdGrok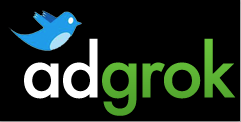 By Gilbert Falso :: 2:40 PM
Twitter has just confirmed that they have acquired the advertising platform AdGrok.
AdGrok's platform was designed to manage Google Adwords accounts, and the company developed a way to make the process easier for businesses, enabling them to easily ascertain keyword performance, clicks, conversion ratios, etc. AdGrok's GrokBar tool offered a single point of management for businesses using AdWords.
About the acquisition, AdGrok said, "When Twitter approached us and asked if we'd be interested in working on their monetization platform, we realized that this was a once-in-a-lifetime opportunity that we just couldn't pass up. The fact that the Twitter team is both smart and user-focused only made our decision easier."
The company is no longer accepting new customers, and will effectively be shutting down their current business as of June 30, 2011. Servers will be shut down, and all customer data will be deleted, and not forwarded to Twitter.
According to TechCrunch, the terms of the deal were less than $10 million.