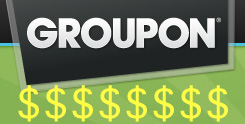 By Gilbert Falso :: 10:03 AM
Groupon yesterday filed its long-awaited paperwork with the Securities and Exchange Commission, giving formal notice that the daily deal company plans to launch as a publicly traded company in the near future.
Groupon has not yet managed to turn a profit in its three years of operation. The company had a net loss of nearly $387 million last year.
The company said however, that "operating expenses will increase substantially in the foreseeable future as we continue to invest to increase our subscriber base, increase the number and variety of deals we offer each day, expand our marketing channels, expand our operations, hire additional employees and develop our technology platform."
Like the recent LinkedIn IPO, Groupon also plans to go public with two classes of stock, concentrating power in the hands of the founders and early investors. Founders Eric Lefkofsky, Bradley Keywell and Andrew Mason will control the company, the filing said.
Groupon is certainly aware that they are not the only player in the online deals game. In fact, their filing came just a day after Google announced the launch of Google Offers, the search giant's answer to a daily deal website. In the filing, Groupon notes that they will "increasingly compete against other large internet and technology-based businesses, such as Facebook, Google and Microsoft, each of which has launched initiatives which are directly competitive to our business."