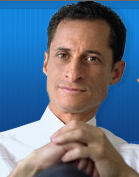 By Gilbert Falso :: 1:25 PM
U.S. Representative Anthony Weiner has told House leadership that he will resign his seat. His decision comes several weeks after the first news of lewd Twitter exchanges and photograph sharing emerged.
Weiner spoke with Representatives Nancy Pelosi and Steve Israel yesterday to let them know of his decision. He will formally resign this afternoon, at a community center for senior citizens in Sheepshead Bay, Brooklyn.
Pressure on Weiner increased earlier in the week when the President made remarks publicly that he believed Wenier should step down. House leadership had discussed removing Weiner from his committee appointments if he did not resign.
A formal inquiry has been opened on Weiner's conduct by the House's Ethics Committee. Some of the allegations they are reviewing include the exchange of private Twitter messages (DMs) with an underage girl from Delaware.
The whole fracas started when Weiner sent a Twitter message publicly to college student Gennette Cordova of Seattle. The message included a link to a picture of Weiner in his underpants.