Sony Tablet S Could Give iPad3 Some Competition
By Dan Thomilson :: 11:58 PM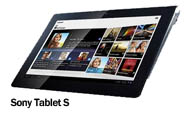 Sony's new foray into tablet computing comes in the form of the Sony Tablet S, and this piece of technology could seriously give Apple's iPad a run for its money.
Sony's tablet runs Google's Android operating system, and will cost about the same as a Wi-Fi iPads—$500 for a 16 gigabyte model and $600 for a 32 gigabyte model. And the price is about the only thing it has in common with the iPad – or any other comparable tablet on the market today.
The design of the Tablet S is what really sets it apart. One of the sides of its rectangular, frame has a thicker, rounded edge that makes the device resemble a folded magazine. While this makes it thicker than most competitors, it also gives Sony several advantages. When held vertically, the tablet is more balanced and easier to hold – and also when laid on a flat surface, this rounded edge provides a natural lifted angle for easier typing.
Sony is also working on a more cutting edge offering for later this year, called the Sony Tablet P. It will be smaller and lighter than the S, and will unfold to reveal two 5 1/2-inch separate displays that can either be used as a large screen or can display separate content on each.
Sony's Tablet P