By Paul Thomson :: 10:19 PM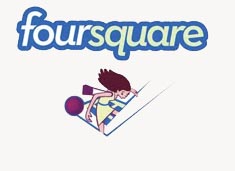 Foursquare has unveiled a new option to help prevent the location-based service's users from accidentally  sharing their home addresses with the world. The privacy fix allows a Foursquare user to classify a Foursquare check-in spot as a private residence by selecting "Home" for the category of the venue.
A Foursquare support website offers these details, "This will ensure that only you and your friends can see the address on the venue page; everyone else sees a zoomed out map with no map pin (rather than the real location). If a Mayorship, badge unlock, or check-in is shared to Twitter or Facebook, the venue URL will include a map without a specific location for everyone."
Did someone else tag your house or apartment with the street address? No fear, Foursquare will also allow users to flag venues as homes even if they didn't create them. Users just need to click the link marked "Report a Problem" for a list of options.  They can then select the "Venue is my home" option.