Motorola Droid Bionic Long on Features, Short on Battery Life
By Gilbert Falso :: 10:01 PM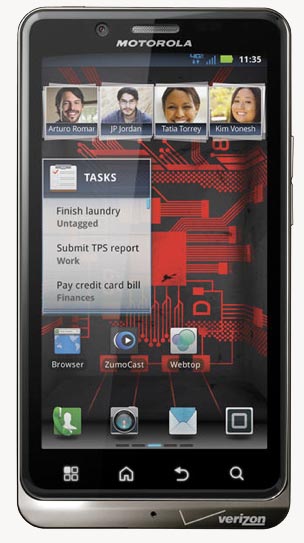 The leading Android phone from Motorola Mobility and Verizon Wireless, the Droid Bionic, has an impressive feature and technology list, but may come up short in the battery life category.
The Bionic measures in at at 2.6 x 5.0 x 0.4 in. and weighs just under 6 oz.. It is roughly the same size and weight as the both the Droid X and Droid X2. With a bright 4.3 inch display, it also boasts two cameras — back and front — the one on the back is  8 megapixels and can take 1080p movies. The forward-facing camera is the standard 480 x 640 VGA.
Under the hood, the Bionic sports a 1 GHz dual-core processor and links to Verizon's 4G LTE network. The Bionic can also function as a mobile hotspot for up to five other Wi-Fi devices.
The list of features is impressive, yes, but now here's the bad news – battery life. It's dismal. Really, really bad.
Android phones are hardly held up as power-sipping devices, but even with a good-sized 1736 mAh battery, the Bionic didn't even last a traditional working day.  In some tests, it barely made it to four hours worth of standard use.
The Droid Bionic is available only on Verizon's network, and retails for $299 with a standard two-year contract agreement.