By Gilbert Falso :: 1:06 AM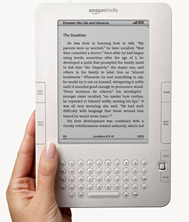 Amazon and digital content distribution service OverDrive have collaborated to launch Kindle library lending to thousands of public libraries across the country. Users in the Seattle area have reported being able to access this option, and Amazon's website now offers information about the new service. It was expected that it would be launched in phases, and it appears this is the case.
Patrons will be able to check out e-books from their local public library on the following tablet m0dels: Kindle 1,2, and 3, and Kindle DX. Applications will also be supported, including Kindle's Cloud Reader. 3G is not be supported, books must be downloaded over WiFi or USB connections.
OverDrive has established a website where users can search for participating libraries. Customers will then use their library's website to search for and select an e-book to borrow. Once they choose a book, they can "send" it to their Kindle, and they will be redirected to Amazon.com to log in to their Amazon account. The book is then delivered to their device after they authenticate.
"Libraries are a critical part of our communities and we're excited to be making Kindle books available at more than 11,000 local libraries around the country,"  Amazon's director of Kindle marketing Jay Marine said in a statement released by the company.