By Cynthia Herbert :: 8:51 PM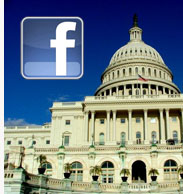 Two U.S. Congressmen, Edward Markey, a Democrat from Massachusetts, and Joe Barton, a Republican from Texas asked the Federal Trade Commission (FTC) today to investigate Facebook's practice of tracking users even after they have logged out of the social networking site.
In a letter sent to the FTC, the Congressmen said, "When users log out of Facebook, they are under the expectation that Facebook is no longer monitoring their activities. We believe this impression should be the reality. Facebook users should not be tracked without their permission."
"Facebook was able to obtain this information when users visited websites that connect with Facebook, including websites with 'Like' buttons," the letter continued. "There are an estimated 905,000 sites that contain the 'Like' button."
Facebook told The Wall Street Journal on Monday that their tracking cookies will remain on computers of logged-out users, at least for now. Arturo Bejar, Facebook's director of engineering claims that making the changes to the tracking system could "take a while."
Markey and Barton voiced concern over how quickly Facebook plans to react.  "Facebook should consider this problem a top priority and should allocate the resources necessary to safeguard consumers in an expedited fashion," they said in their joint letter.
The problem was first brought to light by Australian hacker Nik Cubrilovic who wrote a blog post about it on Sunday in the wake of growing privacy concerns related to the Facebook's new features like the changes to newsfeeds and the Timeline feature. Cubrilovic said that he had discovered the problem about a year ago, but was unable to get Facebook to address the problem until he made a blog post about it.