Amazon Offers No Shortage of Kindle Fire Cases
By Cynthia Herbert :: 12:07 PM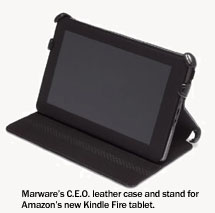 Amazon's Kindle Fire launched last week, and Amazon's online storefront is well prepared to serve the new tablet, even though it is only in pre-order mode right now, and won't ship until November.
The top-of-the-line case offering for the Kindle Fire appears to be the Marware C.E.O. model
, a microsuede lined leather folio that also folds to function as a stand for the tablet. The Marware C.E.O. is offered in three colors, black, brown and pink.
Marware also offers another, slightly lower priced offering, the MicroShell Folio
, a shell style case featuring a hard polycarbonate back piece with a soft protective lid for prevention of against scratches and impact. This case comes in grey, pink and white.
For those looking for something more streamlined and compact, Amazon offers a zip sleeve
pouch for Kindle Fire, available in five colors, grey, coral, blue, charcoal, and lime.
Technology accessory and case maker Belkin has also gotten in on the Kindle action, they offer three cases, a grip sleeve
, a neoprene sleeve
, and a folio-style case
. Belkin's offerings are on the more affordable end of the scale, ranging from $17 to $30.
Without a real Kindle Fire to hold and fit into all of these cases, however, it will be a while before any strong recommendation can be made for cases, or any other Kindle Fire accessories, for that matter.