By Cynthia Herbert :: 9:16 PM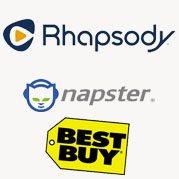 Music subscription service Rhapsody had announced today that it will acquire Napster, currently owned by Best Buy. Rhapsody will take on Napster's subscribers and assets and Best Buy will retain a minority stake.
Rhapsody's music service, which started in 2001, allows subscribers to access more than 13 million songs on their computers, smartphones or any other Internet-enabled device. For monthly subscription fees ranging from $9.99 to $14.99 users have unlimited advertisement-free streaming of albums, radio stations, charts and more.
The stock-based deal will finalize at the end of November, for an undisclosed sum. Rhapsody has about 800,000 subscribers,  double that of Napster.
Rhapsody's president offered the following statement:
"This is a 'go big or go home' business, so our focus is on sustainably growing the company. We're excited to welcome Napster music fans to the best on-demand music experience anywhere. Our new members will have more places to connect to the music they love and to discover new favorites; guided by Rhapsody's rockstar editorial team and the tastes of other Rhapsody members via our innovative social features."
Adding to its user base should help Rhapsody as the market for digital music increases, with competition from companies such as Spotify, Amazon's Cloud Player, Google's Music Beta, Sony's Unlimited, and Pandora.