iPhone 5 Event – Live Blog Coverage
By Gilbert Falso :: Last Updated, 11:40 AM PDT
11:40 That's all she wrote – no iPhone 5 at today's announcement! Only the iPhone 4S.
11:38 Here's the rundown on the 4S – in stores on October 14th. Cost: 16GB for $199 & 64GB is $399. iPhone4 now sells for $99 and the iPhone 3GS is free. with a 2 year contract
11:17 When my iPhone can hop off my desk, go down to Starbucks, and get me my latte, I'll be interested…
11:15 Voice-activated assistant feature called Siri
11:04 8MP camera in iPhone 4S
11:01 Battery life in iPhone 4S pegged at 8 hours talk time
10:56 – Finally – here we go. iPhone 4S announced – dual-core CPU, 2x as fast at CPU tasks. Dual-core graphics. Up to 7x faster than the previous iPhone.
10:42 New stalker-type app announced – Family and Friends. Seems ripe for a restraining order…
10:35 iOS 5 to launch as a free update on Oct. 12
10:33 Going through iOS 5 updates. A new card app that sends hardcopy printed cards through the mail. Upgrades to Camera, Twitter integration, Newsstand – all the stuff they went through a few months ago. Enough already, guys, bring out the iPhone 5!
10:25 Holding here until the iPhone 5 announcement – all this other content is just fluff to us!
10:22 95% of iPad owners are satisfied with their purchase
10:20 Despite huge sales numbers and growth, Apple only owns 5 percent of the global mobile phone market
10:18 70% of iPhone owners are satisfied with it. Compares to 49% of HTC owners and 38% of Motorola owners.
10:17 Huge iPhone growth – 125 percent growth year-over-year for sales
10:15 Apple has 70 percent of the portable music player market cornered with iPod.
10:12 User adoption – took 20 weeks to reach 10 percent of the Windows install base for Win 7 – took OS X Lion two weeks.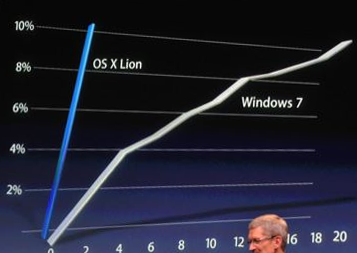 10:10 Apple currently has 357 stores across 11 countries
10:09 Sprint logo found on Apple's servers [link] – Guess this just about confirms it!
10:07 Update on Apple Stores. At the Shanghai store, Apple's largest store in Asia, 100,000 visitors stopped in on opening weekend.
10:05 Cook: "Today we're going to be learning about innovations in software and hardware, and the integration of all of these into a powerful yet simple integrated experience."
10:04 Tim Cook is out on stage
10:01 Gizmodo says "Under my Thumb" by the Rolling Stones currently playing as they wait for the announcement.
9:59 Apple's online store is currently down – see graphic below. We assume it will come back sometime during the announcement.

9:55 Watch this space for our live blog updates as we follow some of the major media outlets and Twitter for Apple's iPhone 5 launch!