Price Drops on Lenovo's IdeaPad K1 Tablet
By Gilbert Falso :: 6:43 PM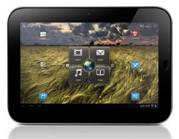 Lenovo's tablet offering, the IdeaPad K1, has recently seen a sharp price drop at BestBuy and online retailers, from $449 to the mid $300s. Amazon is currently offering the K1 for $364.
The K1 features a 10.1-inch display with 1280 x 800 resolution, 1GHz dual-core NVIDIA Tegra 2 T20 processor, 1GB of RAM, and 32GB of internal storage. It has two cameras, a 5 MP rear facing lens and 2 megapixel front facing one. Google's Android 'Honeycomb' 3.1 is the operating system.
Lenovo has tinkered slightly with some of the Android buttons on their offering, including adding one of their own, a favorites-style button that launches a carousel of apps that can be selected.
Like all other Android offerings, the K1
has full access to the Marketplace to download apps, but Lenovo offers a wide range of apps pre-installed on the tablet. They include, Angry Birds HD, Galaxy on Fire 2, Drawing Pad, Documents To Go, Amazon Kindle, Accuweather, ArcSync, Netflix, Slacker, mSpot, PrinterShare, and a set of games featuring Spades, Backgammon, Euchre, Hearts, and Solitaire.