By Cynthia Herbert :: 2:23 PM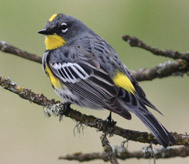 It's that time of the year -Â  thousands of volunteers throughout America will take to the fields, woods, backyards and parks to take part in an adventure that, for many, has become a yearly tradition – the Audubon Christmas Bird Count.
Held from December 14 – January 5 this year, the count allows the Audubon Society and other conservation organizations to use data collected in this long-running wildlife census to assess the overall health of the U.S. wild  bird populations – and to help guide conservation actions.
Though technology has been a boon to birders in recent years, with GPS devices, iPads with birding guides, reasonably-priced digital SLR cameras, etc., this annual bird count is a time for all of them to get together in person for the good of the wildlife they spend so much of their time watching.
"Their work," says Audubon's president, David Yarnold, "reveals how climate disruption is affecting birds and is helping Audubon to predict and address its future impacts."
Indeed, the data gathered during the Christmas census in 2009 showed a trend that found many species in North America shifting their ranges north on an average of one mile per year due to warming global temperatures.
Feel like getting off your regular social networks this season? Join a Christmas Bird Count in your area – Audubon's website provides a list of Christmas Bird Counts.