By Cynthia Herbert :: 1:24 AM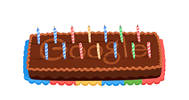 Happy Birthday to search giant Google – 14 years old today! In true celebratory fashion, Google is recognizing its birthday with a commemorative birthday cake Google Doodle on the google.com search page.
Hard to believe that before 1998, we all used AltaVista, HotBot, or (gasp!) Yahoo! to search for things on the newfangled World Wide Web.
From simplifying and improving search results, to creating self-driving cars, Google sure has come a long way. Let's talk a walk down Google memory lane, shall we?
1998
Google incorporates in California, and PC Magazine reports that the site has an "uncanny knack for returning extremely relevant results" and recognizes it as the search engine of choice in the Top 100 Web Sites list for 1998.
2000
Google is introduced in 10 different languages: French, German, Italian, Swedish, Finnish, Spanish, Portuguese, Dutch, Norwegian and Danish. Google AdWords and ToolBar are launched.
2001
Google acquires the UseNet news archive DejaNews, launches Image Search, and names Eric Schmidt to the board of directors.
2002
Google News launches, Klingon is introduced as a supported language, and Froogle emerges, later to be called Google Product Search.
2003
The American Dialect Society votes "Google" as the "most useful" Word of the Year for 2002.  The AdSense advertising network launches, and Google acquires the company behind Blogger.
2004
Google stock IPOs at $85 per share in August, and the search engine now indexes more than 8 billion pages.
2005
Google Maps and Google Scholar debut, and Google Analytics is unveiled.
2006
Gmail chat is enabled, Google Calendar is rolled out, and YouTube is acquired.
2007
The iPhone debuts, with Google Maps as its default mapping service. Android, the first open platform for mobile devices, and a collaboration with other companies in an Open Handset Alliance, is announced.
2008
Google acquires DoubleClick, rolls out Google Health, and brings Street View map imagery to Europe.
2009
Google Voice rolls out to former Grand Central users, Gmail, Calendar, Docs and Talk all move out of beta, and Google Maps Navigation debuts.
2010
Google releases a love story-themed Super Bowl ad, announces the eventual creation of Google Fiber, and Chrome celebrates its second birthday.
2011
Google rolls out Social Search results, the +1 button appears, along with Google Plus, and Gmail is redesigned.
2012
U.S. President Barack Obama holds a Google+ Hangout to answer questions directly from voters.