Lost No More – Google to Release iOS Maps App Tonight
By Gilbert Falso :: 8:54 PM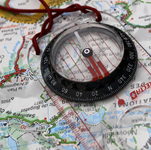 iOS6 users, your wait is finally over. It looks like tonight is the night that Google will make their maps app available for iOS.
According to a report by AllThingsD, the search giant will release their version of Google Maps for Apple's iPhone – a move that many users have been looking forward to, since the map app that comes standard with iOS6 has been riddled with flaws and misdirections.
Neither the Apple camp nor the Google camp appear to have released any sort of public comment yet, and AllThingsD's report is based on an unnamed source, but according to other rumblings in the tech world, it looks like this news is indeed legitimate.
With the release of Google Maps for iOS, many holdouts who had been reluctant to upgrade from iOS5 to iOS6, for fear of losing their reliable mapping system, may likely upgrade their handsets.
As the story develops, we will post updates.