By Gilbert Falso :: 1:16 PM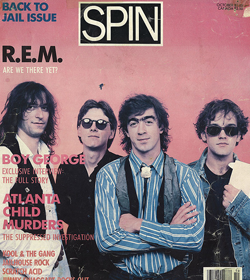 After 27 years, Spin magazine has announced that it will no longer be publishing a printed edition.
The music monthly had scaled back recently to a bi-monthly format, but that was apparently not enough. The magazine informed subscribers earlier this week that issues would cease. It had recently been acquired by BuzzMedia.
Subscribers will receive one issue of Car and Driver magazine for every issue of Spin that was remaining on their subscription. See letter sent to subscribers [courtesy Rock Cellar Magazine].
Spin was founded in 1985 by publisher Bob Guccione Jr. In the early years, the magazine was known for broad music coverage with an emphasis on college-rock music and the emergence of hip-hop. It prominently placed newer artists such as R.E.M., Prince, Run-D.M.C., The Eurythmics, The Beastie Boys, and Talking Heads, on covers and featured lengthy pieces on established music figures like Bob Dylan, Keith Richards, Miles Davis, Aerosmith, Lou Reed, Tom Waits, and John Lee Hooker.
The magazine will continue to have an online presence at www.spin.com.