By Gilbert Falso :: 11:16 AM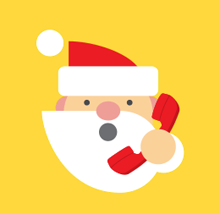 Its Christmas Eve, and procrastinators are flocking to the malls and shopping centers with crazed looks in their eyes. But there's still one thing you can do for the child in your life without leaving the house – schedule a call or an e-mail from the big man himself – Santa Claus.
Again this year, Google is offering its "Send a Call from Santa" service for free to telephone numbers in the United States. Head to this website, and after filling out some basic information to personalize the call, like the recepient's name, how they're related to you, where they live, what they want for Christmas, and what they'll be leaving as a snack for Santa under the tree, Google will let you preview the message before making the call, or sending it as an e-mail.
After you arrange Santa calls for the little ones in your life, you can head over to the Games section of Google's holiday website and try your hand at the Present Drop game!