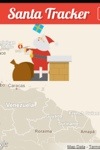 By Gilbert Falso :: 10:10 PM
Do the kids want to know where the jolly old guy in the bright red suit is tonight?
Thanks to the folks at Google, Santa's location is just a few clicks away on your computer or smartphone.
Point your browser to Google's Santa Tracker site, and see where he is, and let the kids learn a little about world geography at the same time. Google has made the map interactive this year, with links to photos and information on locations as Santa traverses the globe.
Merry Christmas from all of us here at The Social Zoo!