By Cynthia Herbert :: 3:39 AM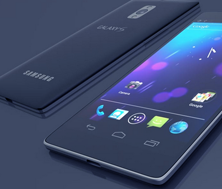 The new Samsung Galaxy
S4 smartphone handset is reported to feature a thinner shell and wider screen, possibly reaching the 5-inch mark, based on a video created by a Russian technology website.
According to details leaked to the website, Samsung's new smartphone will surpass features that came on the Galaxy S3 and its main rival, the Apple iPhone 5. The S4 will be much thinner, with its screen stretching nearly from edge-to-edge on the front of the handset.
The phone will feature a 'projected keyboard', which beams a keyboard image onto a nearby flat surface where the user can then type on the projected keys. In addition to the virtual keyboard, it will also come with an updated stylus.
As exciting as these features sound, they are all still – at this point – just rumors. It should be noted that despite a projected availability date of April, 2013, the S4 will not be making an appearance at CES next month. However, there is an outside chance that the company will schedule an event for February's Mobile World Congress. Stay tuned!