Intel Set-Top Box to Redefine Cable Industry, Allow Specific Channel Subscription
By Cynthia Herbert :: 5:16 AM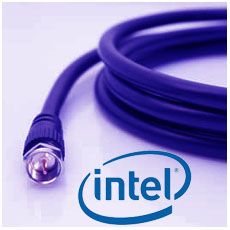 It looks like the cable television industry might see itself receiving a big shake up pretty soon, if the rumors and tips about the technology Intel is working on come true.
According to reports published in Forbes, the company known for semiconductor and computer chip manufacturing may soon be in the television content business, with its own set-top box paired with an unbundled-channel cable service.
The new hardware will be offered first as a limited beta to a select group of customers some time in March. Content will be delivered to televisions via an Internet connection, regardless of Internet service provider. Users will be permitted to subscribe to content on a per-channel basis, unlike current cable company offerings. It has also been noted that Intel may allow users to subscribe simply to a show within a channel, and not to the entire channel.
Intel's set-top box will provide access to Intel's application marketplace for apps, games, and videos/movies on demand, and will also feature a "Cloud DVR", that will allow subscribers to watch any  TV show already broadcast at any time, without needing to record it ahead of time.
Similar rumors were circulating last year around a service like this that Apple
was hoping to roll out, however, the Cupertino heavyweight apparently ran into problems when negotiating with networks and channels about a revenue split, and the project was tabled. Intel, though, is said to be doing better with these content provider partnership negotiations, and is not seeing the same problems that Apple did.
With news breaking this time of year, the big question is always, "will we see this at CES?" CES, the Consumer Electronics Show held annually in January in Las Vegas, is often a site for such debuts. Unfortunately, it looks like Intel may be skipping a CES unveiling for this new technology – but, like everything else at this stage – that's just a rumor, and we might see them at the Las Vegas Convention Center after all. Stay tuned.