By Paul Thomson :: 1:19 PM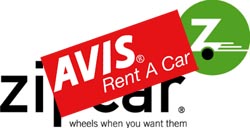 Zipcar, the Cambridge Mass.-based membership carsharing company has been purchased by rental car giant Avis for $491.2 million.
The notion of carsharing, an alternative to traditional automobile rentals in cities and densely populated areas, allows members to reserve a vehicle for short trips. Zipcar, was founded in 2000 by Antje Danielson and Robin Chase, and currently boasts more than 760,000 members. The company went public in 2011 and reported a net income of $850,000 in the first half of this year.
By joining forces with Zipcar, Avis hopes to "significantly increase our growth potential, both in the United States and internationally," said Avis Chairman and CEO Ronald Nelson in a prepared statement.
Adding the strength of the large fleet of Avis vehicles should help Zipcar address demand issues, an area it has had problems with, especially on college campuses where it has cars, and in all city areas on the weekends.
Avis expects to retain a few members of the current Zipcar management team, including Zipcar's Chairman/CEO Scott Griffith and its President/COO Mark Norman.
"We are delighted to announce our intention to join the Avis Budget Group family of companies, and we believe this combination is a win across the board for our members, shareholders and employees. We will be well positioned to accelerate enhancements to the Zipcar member experience with more offers and additional services as well as an expanded network of locations," said Griffith.