By Gilbert Falso :: 1:29 PM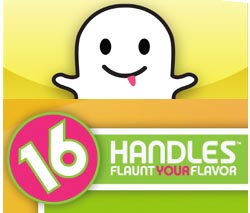 Snapchat, the popular mobile app that allows users to send and receive photos and videos with a limited viewing time, is no longer the domain of teenagers exchanging risque pictures. A recent successful Snapchat marketing effort by a frozen yogurt chain may show that this app is more than just a plaything.
16 Handles, an east-coast frozen yogurt chain, has been using Snapchat to send coupons to customers who interact with the company via the new messaging medium.
"Our social-media fans are teenagers and we noticed on Facebook and Twitter that they were using it. We figured, 'Why not?' and we gave this a chance," 16 Handles' community manager Adam Britten told AdAge.
This may be the first instance of a product or brand using a limited viewing messaging service like Snapchat or Facebook's recently launched Poke application for an advertising or marketing effort.
The yogurt chain is no stranger to social media, however, and has a healthy following on Twitter and Facebook. In addition, with the dedication of a full-time community manager role, it is easy for the company to be nimble to jump on an opportunity like the one that Snapchat presented. The company was able to engage by sending and receiving approximately 1,400 images with their customers.
Titled "Snappy New Year," Britten's campaign used Facebook to ask 16 Handles fans to send in a Snapchat photo of a recent frozen-yogurt purchase to the 16 Handles Snapchat account. Senders then get a coupon via Snapchat that they can redeem at one of the chain's locations. The campaign was originally slated to run on Twitter account, but Britten moved it to Snapchat because it was less likely that the coupons would be copied and sent to others, since they are deleted from the application within a certain amount of time. Twitter and Facebook coupons are easy to screenshot and circulate to others.