By Cynthia Herbert :: 5:39 PM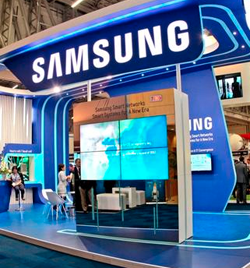 Several rumors are circulating today, both at CES and online, that the next flagship handset from Samsung, the Galaxy S4, may come with a built-in wireless charging system.
The smartphone manufacturer filed for a wireless charging patent in July of 2012, and details of that filing were outlined last month. The patent paperwork outlines a technology that combines wireless power with a modulated carrier signal – this lets the handset communicate with a charging mat or stand. This type of system, one that combines wireless power and powerline networking technology, could provide new capabilities for all kinds of devices, eliminating the need, for example, to pair Bluetooth devices together.
In the industry, the Nexus 4
handset from LG and the Nokia Lumia 920
both offer wireless charging capabilities.
Although Samsung doesn't mention any specific phone model or device in its patent filing, given the timing of the patent and other rumors, the Galaxy S4 is at the right place in Samsung's pipeline to debut with the technology.
All signs still point to the S4 announcing at the Mobile World Congress in Barcelona at the end of February. In another nod to confirm this rumor, a listing for a model number assumed to be the S4 appeared today at the Samsung Global Download Center. The device is noted as the GT-9500X. GT-9500 has been said to be the model number that Samsung will use for the Galaxy S4, if the company keeps to similar pre-launch tactics it has used in the past. For example, The Galaxy S that arrived in 2010 carried the model number, GT-i9000. The Galaxy S2, which also emerged at Mobile World Congress back in 2011, had the model number GT-i9100, and last year's debut of the Samsung Galaxy S3
gave it a model number of GT-i9300.