By Paul Thomson :: 6:22 AM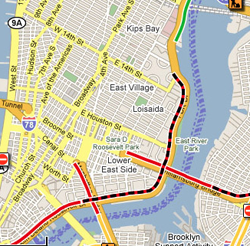 Google has sent its Google Maps Streetview cars equipped with cameras, to areas of the metropolitan New York City region to map out and document the destruction in the aftermath of hurricane Sandy.
The first Google car was reported earlier this month, and covered in the New York Post. Some residents told the Post that they were concerned that documentation of the damage might decrease area property values, and was invasive and insensitive.
New York City Mayor Michael Bloomberg's office said that city officials have been working with Google in hopes that documenting the extent of the devastation will help with fundraising efforts.
Google is no stranger to documenting the aftermath of natural disasters. Google used its mapping software in the wake of Hurricane Katrina in 2005, major flooding in Pakistan and a devastating earthquake in Turkey.
The company runs a philanthropic arm, called Google.org, that is responsible for the Google Crisis Response project which helps ensure critical information about natural disasters and crises is accessible and up-to-date with the use of satellite imagery and new engineering and location-based mapping tools.