By Gilbert Falso 2:28 AM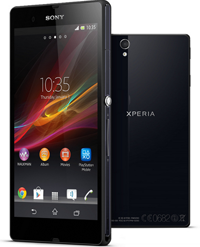 This week at CES was a big one for electronics giant Sony. Among the televisions, audio offerings and cameras, the company also released its flagship smartphone handset, the Xperia Z.
A large phone – almost halfway to a tablet, really, but very thin, this phone's claim to fame is the fact that it is both dust and water-resistant. It will even survive a brief dunk underwater.
Under the hood, it's an Android world, with a quad-core Snapdragon S4 processor powering things, and a 1080p display, with a 13-megapixel built-in camera. Slightly wider than competitor its close competitor, the Samsung Galaxy S3
, the Xperia is 71mm wide with a 5-inch display – a size that takes some getting used to. But it is almost a full millimeter thinner than the Galaxy – something that really helps in terms of keeping it in your hand.
Sony hasn't released an availability date yet for the Xperia, but it may come before the Galaxy S4 – which could leave many Android phone fans in a bit of a quandary!