By Gilbert Falso :: 3:34 PM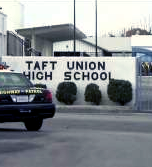 As law enforcement officials continue their investigation on the nation's most recent school shooting at Taft Union High School outside of Bakersfield, Calif., they are beginning to turn to social media to see what clues may have foretold the event.
It appears that in December of 2012, some Taft students were talking on Twitter about the shooter, Bryan Oliver, a 16-year-old, sharing their concerns about his behavior at school.
Tweets discussing Oliver had apparently been sent in the middle of December, almost a full month before Oliver came to the school with a shotgun and opened fire in a classroom, wounding one student.
One fellow Taft student, a girl who goes by the name of "Allie Who" on Twitter tweeted, "If Brian Oliver shoots up the school, I swear to God. I have like four classes with him."
Another student openly questioned school administration on Twitter in December saying, "He made a hit list. Why is he still allowed in school and he always talks about murder like he's obsessed with it."
The school and the school district have not responded to any media requests about the monitoring of social media accounts.
Students had told a local NBC affiliate television station that the shooter had been caught recently in possession of a "hit list" and had been suspended for a short time.