By Cynthia Herbert :: 11:39 PM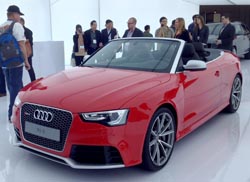 Audi has announced a relationship with Qualcomm to produce in-car technology for Audi's 2013 A3 model. The announcement came amid a flurry of connected car and automobile-as-platform activities at CES last week.
This Audi and Qualcomm project will feature wireless 4G LTE connectivity with data rates close to 100 megabits per second. Audi is calling the new service "Audi Connect," and it will include Wi-Fi, internet radio, weather forecasts, web services and a navigation system that offers a street view option.
The service will use Qualcomm's Gobi MDM9215 chipset to deliver Wi-Fi hotspot access for eight devices inside the car at speeds close to typical home broadband availability.
"Audi was the first automaker to highlight the potential for LTE connectivity in vehicles at CES 2012 and now becomes the first automaker to announce a commercial model with embedded 4G LTE connectivity," Ricky Hudi, chief executive engineer of electrics/electronics at Audi said in a press release.
Audi's new A3 will be in dealer showrooms later this spring.