By Cynthia Herbert :: 1:01 PM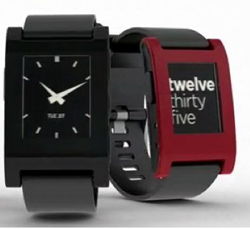 The Kickstarter darling, watch company Pebble, made an announcement at CES last week that it will begin shipment of the long-awaited watch to its first backers on January 23.
Pebble chose CES as the venue to make their shipping announcement because many of the project's early backers would be at the week-long convention in Las Vegas. Pebble did not have a booth on the show floor at CES, but did reserve a suite in a nearby hotel where it showed the watch prototype to backers and others that it welcomed in by special invitation.
Management expects that after shipping begins on January 23, it will take about eight weeks to get units out to all of the Kickstarter funders.
Pebble was not the only smart watch company at CES this year. Another Kickstarter watch program, Martian, and an Italian entry, I'm, were also presenting their connected timekeeping alternatives. Although not technically a smartwatch, there was also a great deal of attention for VIVOPlay, a device from Evado Filip that combined a watch with a phone designed to keep children safe when wearing the device. The VIVOPlay, uses GPS, Wi-Fi, and GSM for location tracking, and allows your children to call up to 5 designated phone numbers at the touch of a button.