By Gilbert Falso :: 3:48 AM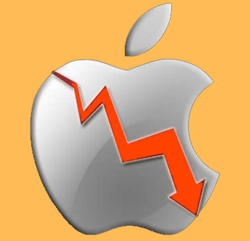 The Wall Street Journal is reporting that Apple Corp. is scaling back its orders on parts for the iPhone 5 handset.
Orders for screens for the iPhone 5 dropped in half compared to previous plans, sources told the Journal. This recent drop is for the current manufacturing quarter, January through March.
The sudden and sharp drop may illustrate just how far the new Android OS phones are encroaching on Apple's territory.
Samsung has seen strong sales and followings for its Galaxy 3 handsets, and there is an almost rabid interest in the soon-to-be-released Galaxy 4 handset. Also, Android smartphone were clear winners across many companies at the recent Consumer Electronics Show (CES) earlier this month, as standout options from Sony (Xperia), Huawei (Ascend Mate), and Vizio all showed strong promise in features and style when compared to Apple's iPhone.
According to IDC research, Apple held 14.6% of world-wide smartphone shipments in the third quarter of last year. This is down from their peak of 23% in the last quarter of 2011. Meanwhile, Samsung's market share has risen to just over 30% in the third quarter of 2012. This is a jump from just below 9% in the third quarter of 2010.