By Paul Thomson :: 10:03 PM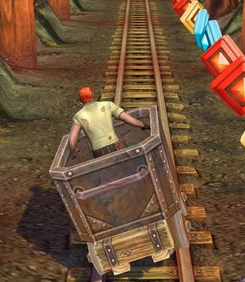 Temple Run 2, the sequel to the very popular Temple Run game for iOS and Android, released with much fanfare earlier this week for Apple's iOS devices, and quickly rocketed to the top of popular app charts.
As with the first version, Temple Run 2 comes to us from game developer Imangi Studios,and for this second version, Fuzzycube Software was also involved in the development. The original Temple Run is one of the 'net's most popular free apps on both the iOS and Android platform since it launched. As of last August, it had over 100 million downloads, and added at least 70 million more since then.
Although the version that launched this week was for iOS only, Android users shouldn't despair. Company spokespeople have been quoted across the tech press saying that the Android version will be coming to Google Play and the Amazon Appstore this coming week – although a specific date was not given.
As far as game play goes, Temple Run 2 has much better, more rich graphics, and looks more polished around the edges than the first version. At its core, it is still a running game, piloting the Indiana Jones-lookalike at breakneck speed trying to keep ahead of the pack of wild angry monkeys closing in behind you. It's just a better experience this time around. The animation is more lifelike, the scenes are much more detailed, and the levels seem to be more thoughtfully designed.
If you have a Retina display iPhone or iPad, the game will look wonderful. Just beware that this version suffers slightly on older hardware. It still looks fairly nice, but there's quite a bit of lag to the gameplay which makes it difficult to judge and maneuver around some obstacles.