By Paul Thomson :: 10:37 PM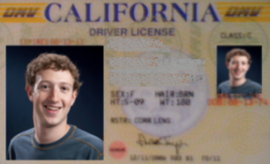 This week, many Instagram and Facebook users are getting surprising e-mails in their inboxes – the two online social networks are looking for proof that users are who they claim to be.
It started earlier this week with Instagram, and then a few days later, Facebook followed suit. No surprise there, since Instagram is now owned by Facebook. The e-mails ask users to scan and upload a government-issued ID card that lists their full name with a picture and a birth date visible. In some cases, that ID is not enough, and the companies send out another e-mail asking for additional proof.
The e-mails say, in part,
We're sorry, but we can't verify your claim based on the ID you provided. Please reply to this email with a different government-issued photo ID. This ID must include your full name and date of birth. If any of this information is located on the back of the document, be sure to include an image of this as well.

If you don't have a government-issued photo ID, we need you to send us two things:

-A copy of a photo ID (ex: work or school ID)
-A copy of an official document verifying your name and age (ex: birth certificate)
Facebook's spokesperson has told us that this is standard procedure for verifying accounts on the service, but would not go into detail on specific cases, or address why certain users were asked for this information and others were not.
Instagram made changes to its terms of service and privacy policy on January 19, changing some of the language, and adding language that gives it the power to suspend a user's account at any time
"We reserve the right to modify or terminate the Service or your access to the Service for any reason, without notice, at any time, and without liability to you," reads part of the new terms.