By Cynthia Herbert :: 9:52 PM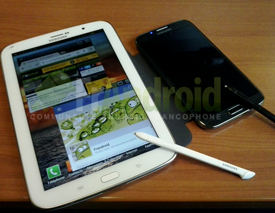 The long awaited tablet, Samsung's Galaxy Note 8.0, finally has some pictures out there to prove that it exists! French technology blog Frandroid got the scoop, and the pictures even show the new tablet right next to the Galaxy Note II so we can get some context and comparisons on the size.
The Galaxy Note 8.0 will be Samsung's next foray into tablets, and is squarely set to be a competitor for the iPad Mini. In the image above, it easy to see the new tab takes design cues from the current Galaxy Note, and the S III.
When the tablet does hit store shelves, it also looks like it will be equipped with Samsung's S-Pen stylus – a popular accessory for the Samsung devices that has done well in reviews. As far as technical specifications go, while nothing is definite yet, it is looking like the display will be 1280×800, the OS will be Android's Jelly Bean, inside will feature a quad-core processor with 2GB of RAM, and the camera will likely be 5MP.
No release date yet, and not even a definite on appearing at Mobile World Congress next month, but it is a very strong possibility that we'll see it there.
[Thanks to Frandroid for the pic.]