By Gilbert Falso :: 7:26 PM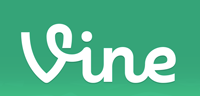 If you've been on Twitter at all in the past two days, you may be wondering, what is all this chatter going on about Vine?
Vine is Twitter's new video sharing application for the iPhone. It was released yesterday, and has quickly climbed the app charts, now ranked number 14Â in the top free app overall category. Twitter acquired the company in October, and made the official launch announcement yesterday.
The application is not built into Twitter, but operates alongside it as a standalone app. Vine videos are fully integrated with Twitter so that they will show up in users' Tweet streams like pictures shared through Twitter-approved image providers do. Users can also follow and participate with Vine videos in the Vine app itself, outside of Twitter.
It is designed for the sharing of short videos – those that run only a few seconds, and will loop the videos back to the beginning after they end, continuously. Video length is limited to six seconds.
Facebook, it seems, will not be playing friendly with Twitter and Vine. Facebook today has blocked Vine from allowing users to be able to find Facebook friends with the app. This is a similar move to howTwitter shut off Facebook's Instagram from access to user data a few months ago. Tit for tat.