By Cynthia Herbert :: 8:49 AM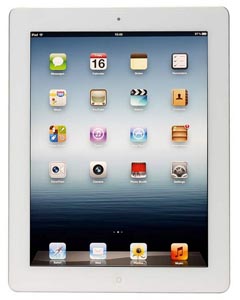 Looks like all the rumors we've been hearing the past few weeks were right on target. Apple today has confirmed that it will be releasing a 128 GB iPad with the Retina display in early February.
The price for the base Wi-Fi model will be $799, and the Wi-Fi with LTE flavor comes in at $929 — a price that puts it very close to the base level MacBook Air model.
"With more than 120 million iPads sold, it's clear that customers around the world love their iPads, and everyday they are finding more great reasons to work, learn and play on their iPads rather than their old PCs," said Philip Schiller, Apple's senior vice president of Worldwide Marketing. Clearly the storgage capacity and price point of this latest Apple gadget put traditional desktop PCs squarely in the crosshairs.
As with the other models in the current iPad lineup, this one will also be available in black or white. Apple announced that it will be in stores on February 5th.