By Gilbert Falso :: 2:28 PM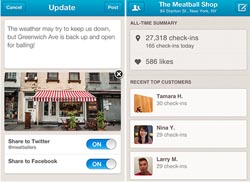 Location-based social networking site Foursquare today released a mobile app for business and venues owners to download that allows them to manage their presence on the service.
Foursquare is hoping that the application will make it easier for businesses to update their information on the service, and keep customers in-the-know by posting updates and offering "specials" that customers can unlock by checking in. Currently, business owners and venue managers need to log into their Foursquare account at a desktop computer to do most of these management tasks.
"With the Foursquare for Business companion app, managers can create a Foursquare update and easily cross-post it to Facebook and Twitter at the same time. They can also use the app to see recent check-ins, turn specials on and off, and look at business data," the company said in a blog post earlier today.
The application will allow managers to coordinate multiple business locations as well.
It is available for download on both iPhone and Android devices, but business owners will need to claim their venue first on Foursquare before it will work properly.