By Paul Thomson :: 1:09 PM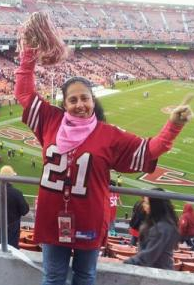 File this under the "not a good idea" tab – buying tickets to the Super Bowl over Craigslist.
AÂ couple from the San Francisco Bay area who are 49ers Fans arranged a deal for four tickets to the game for $5,900. They wired the money to the seller electronically, something that Craigslist warns users not to do, and ended up with just a taunting note in the mail instead of seats in the stadium.
A FedEx package arrived a couple of days after the wire transfer, and contained a piece of paper that read, "Go Ravens! LOL!"
The local newspaper picked up the story, and the couple will receive free tickets to the game, courtesy of the 49ers management and TicketMaster.
As for the seller, it looks as if they filled out the FedEx information form with their correct address and telephone number, which have been forwarded to the Alameda, Calif. County Sheriff's office for investigation.
[Picture, above. 49ers fan Sharon Osgood, at a game earlier in the season. Osgood will receive free tickets to this year's Super Bowl.]