Amazon Offers Exclusive Access to Downton Abbey's Season 3 for Prime Members
By Cynthia Herbert :: 2:53 PM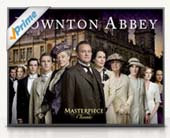 Amazon today announced a deal that will give its Prime members early exclusive access to episodes of the hit PBS series Downton Abbey.
Beginning in June, the company's Prime Instant Video
service will be the exclusive carrier for streaming episodes of Downton Abbey's third season, and all new seasons going forward. Seasons 1 and 2, which have quickly become some of the most popular TV seasons available on Prime Instant Video, are there now, and will become exclusive to Prime Instant Video later this year.
In an interesting twist, Amazon's agreement with the show producer has also allowed streaming videos of all remaining Downton Abbey season 3 episodes before they air on PBS stations in the United States. Â Access to all episode will require users to purchase an Amazon TV Pass
for the season – at which time, all remaining episodes will be available instantly.
Amazon's Prime service is priced at $79 for a one-year subscription. The subscription includes unlimited streaming access to roughly 35,000 movies and TV episodes, complimentary two-day shipping on items purchased through Amazon, and one free book per month via Amazon's Kindle Owners' Lending Library.
With Amazon's major coup to grab rights to this smash hit series, obviously it means someone else is losing out. In this case, the parties losing out are Netflix and Hulu, which currently carry prior seasons of the show. Netflix has Season 1, which will disappear from the service on July 1,2013, and Hulu Plus currently has Seasons 1 and 2, with no date given as to when their contract will expire on that service.