By Cynthia Herbert :: 9:09 AM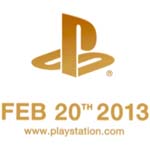 Sony yesterday sent the gaming world into a tizzy when it teased out news about a PlayStation event scheduled for Wednesday February 20.
In a video posted to their blog, Sony invites PlayStation fans to "see the future." However, the video isn't showing fans much of anything, only a stylized rendering of the well-known PlayStation controller symbols. The lack of information in the video, however, is just fueling fans to believe that the company is indeed gearing up to make the next-generation console announcement.
At only 45 seconds long, with the last 10 seconds just fading into the logo and announcement date, the video is certainly just a tease, and while we're not likely to get much more official information before the February 20th event, it is likely that leaks and rumors will start to intensify over the next several weeks.
Many online gaming news sites had this announcement pegged for later this Spring, thinking that both Microsoft and Sony would be planning major press conferences sometime in March for their respective next-generation consoles. Microsoft's is currently dubbed the Xbox 720.
In the latest console build to game developers, it looks like the PS4 might have specs that include 8GB RAM, a 2.2GB video memory, 4x dual-core AMD64 processor – "Bulldozer" inside, 4 USB ports, 2 Ethernet ports, a Blu-ray drive, 160GB of storage, and an HDMI video port out.
The teaser video from Sony is below, and the company is also encouraging fans to sign up on their website for additional information about the mystery announcement.