By Cynthia Herbert :: 6:45 PM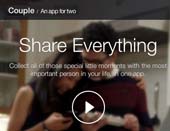 Pair, the mobile app geared toward use between two people in a relationship, today announced that it has acquired a rival mobile app company from the U.K., Cupple, and will rebrand its service as Couple.
No terms behind the deal have been made public yet, and Pair's studio, Tenthbit, is only acquiring the Cupple app, and not any of the development talent behind it.
Cupple will remain as a standalone app alongside Pair for now, although users will be able to soon migrate Cupple data to Pair if they choose.