By Paul Thomson :: 9:35 PM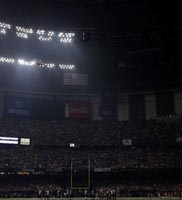 The New Orleans Superdome, where last night's Super Bowl took place, was plunged into a blackout when over half of the stadium lights failed without warning at the beginning of the game's third quarter.
However, according to Rentrak, a consumer viewership information provider, viewership of the game did not measurably suffer due to the blackout and the game delay that followed it.
The company said that audience levels remained stable, and even grew during the 34-minute blackout (see graph at bottom of story). Advertising exposure was nearly equal to viewership of the entire game despite the fact that spots from some major sponsors like Taco Bell had been shown online prior to the big game. According to Rentrak's data, the average ad delivered 94% of the audience when compared to viewership across the whole game.
Samsung's Galaxy commercial during the fourth quarter was the most-watched ad of the game, with a 117 index according to Rentrak's Ad Retention Index – a measurement that examines the second-by-second viewing average for commercials and compares them against the entire program.
The Super Bowl even drew many from local movie theaters, with box office ticket sales falling by 66% from Saturday to Sunday. On a typical Sunday afternoon, the decline is only around 40%.
Graphic below – audience levels during the Super Bowl