By Cynthia Herbert :: 10:40 AM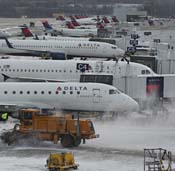 As winter storm "Nemo" chugs its way up the Eastern U.S. seaboard, it is leaving a slew of closed airports and disrupted travelers in its wake.
Many airline flights out of major East Coat hubs are delayed or cancelled today, stranding thousands of fliers.
One of the best ways to keep up with all the cancelations and delays is via a tool called FlightAware.
Their website offers a page that delivers real-time airline cancellation information, including statistics (by airline and airport) on the number of airline flight cancellations for a flight that was scheduled to operate today, tomorrow, or Sunday.
As of post time, over 3,100 flights had been affected worldwide due to the storm cancellations, just over 2,900 of those are flights to or from the United States.
In addition to the website, for savvy travelers on the go, or already dealing with delays at the airport, the FlightAware information is also available an an app for the iPhone.
Although you should pay attention to information from your particular carrier, the FlightAware set of tools is useful in determining airline alternatives when rerouting travel yourself.
Snow began to fall across the Northeast early on Friday morning at the start of what meteorologists predict to be a historic blizzard, set to dump up to 3 feet of snow from New York City to Boston. The storm is already following close to the track that Hurricane Sandy took last fall.