By Gilbert Falso :: 3:04 PM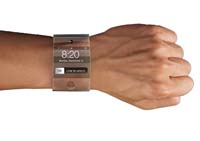 Now this news comes out of the fast-spinning rumor mill, fueled by Apple fans and chatter overheard at CES last month, so take it all with a grain of salt, but it appears that Apple may be working on a smart wristwatch, and that its design will be something totally new in the marketplace as it will make use of curved glass.
The New York Times today has also said that it believes Apple's research and development labs are testing out applications for curved glass that include watch-like devices and wearable technology. Two unnamed sources close to the project told NYT tech writer Nick Bilton that the the new watch would run Apple's iOS, and would benefit from the company's understanding of how glass can be manufactured to curve around the human body.
If Apple is successful in its efforts, it will be the first curved smart watch to hit the market, and the first true watch for Apple. Many iPod NANO fans use their device as a watch with the help of bands to fasten it around their wrists, and while Apple certainly makes the NANO easy to use for that purpose, it wasn't designed from the ground up to be a watch, as this new device seems to be.
These recent reports, especially by the NYT, give credibility to the reports from a Chinese blog back in December that claimed that Apple was partnering with Intel to develop a wristwatch that would be Bluetooth-enabled.
No dates have been given for any part of this project yet, so it is merely a guess as to when we'll see an iWatch on our wrists.