By Cynthia Herbert :: 2:16 PM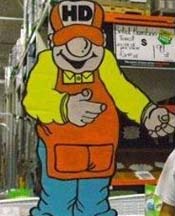 Home improvement mega-store chain Home Depot has moved away from BlackBerry handsets for its managers, and instead will be outfitting nearly 10,000 employees with Apple iPhones.
The company, which is the fifth-largest retailer in the world, will move 10,000 of its managers at the store, district and corporate level to iPhones.
Home Depot's departure from from BlackBerry for enterprise mobile support is the latest in a series of similar moves, including those recently made by the National Transportation Safety Board and the U.S. Immigration and Customs Enforcement agency
An interesting move for the retailer, it is timed poorly for BlackBerry, which just announced its next generation BB10 platform at the end of January. BlackBerry hardware was once the standard in corporate and enterprise settings, and this visible move by Home Depot underscores how much market share BlackBerry has given up over the years.