By Cynthia Herbert :: 5:26 AM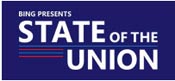 Microsoft's search engine, Bing.com, has announced that has partnered with the FOX News Channel to launch the Bing Pulse online voting tool, which enables Americans to track and share opinions in real time during the president's State of the Union speech tonight.
Bing Pulse is part of a comprehensive State of the Union experience at Bing's politics portal. The site provides a single destination for political news, expert commentary, and social sentiment on major policy issues.
The new online voting tool plans to offer:
A live feed of President Obama's State of the Union address, including commentary from FOX News Channel political experts.
The Bing Pulse online poll, which will feature updated results every few seconds throughout the speech. Unlike some polls, Bing Pulse will allow people to self-identify as male or female, register their party affiliation, and join the conversation.
Real-time news results using the Bing news selector that helps users navigate news stories by filtering coverage from left-leaning and right-leaning sources.
Live sentiment analysis via Bing Beat, which focuses on real-time social sentiment across major political issues, such as immigration, and gun control.
A live feed of social conversations on Twitter so people can stay informed on what leading political pundits are saying about the speech.
"Bing.com/Politics is the best second-screen viewing companion for the State of the Union address," claims Mark Penn, corporate vice president, Microsoft. "Bing uniquely offers a holistic view of information, reaction and even sentiment during this key political moment in America."
The State of the Union speech coverage will begin tonight at 9:00 PM Eastern time.