By Paul Thomson :: 7:16 PM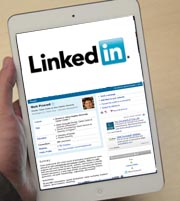 Professional social networking site LinkedIn announced today that it will be giving all of its employees an iPad Mini to reward them for reaching a milestone of membership recently.
LinkedIn's CEO Jeff Weiner apparently sprung the surprise on the company's 3,458 employees earlier today when he told them about their gifts during a company all-hands meeting.
"Weiner decided to give every employee an iPad mini today as a special reward for our recent results," a marketing solutions product manager for the company posted on the LinkedIn blog today.
LinkedIn's spokesperson, Krista Canfield confirmed that employees will be receiving a 32GB iPad Mini in their choice of white or black. She called the action a "small gesture of the company's gratitude."
Last week, LinkedIn reported fourth-quarter earnings per share of 35 cents, revenue of $303.6 million, and net income of $11.5 million – results that beat market expectations and left investors very happy.