By Gilbert Falso :: 11:03 PM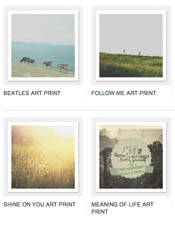 European social media printing service Inkifi has launched a new program that will allow Instagram users to earn money through selling their Instagram images. Instagram photographers can turn their photographs into artwork and then sell it to the general public, and earn a commission on the sale.
Printing, shipping, handling and all other fulfillment duties are handled by by Inkifi. In addition to prints, the company can also print other items, including acrylic prisms, greeting cards, framed art, canvas prints, and T-shirts.
Photographers will still own and control all the rights to their work, and they will be able to track their level of sales and commission via an online account, and receive a dedicated gallery to feature and sell their work from.
[More info:Â Inkfi]